When an SMS Text or Email is sent from Lead Docket, you are able to see the status of the message.
You may see these statuses by going to the Messages tab on a specific lead and then mouse-over the sent message to see its status.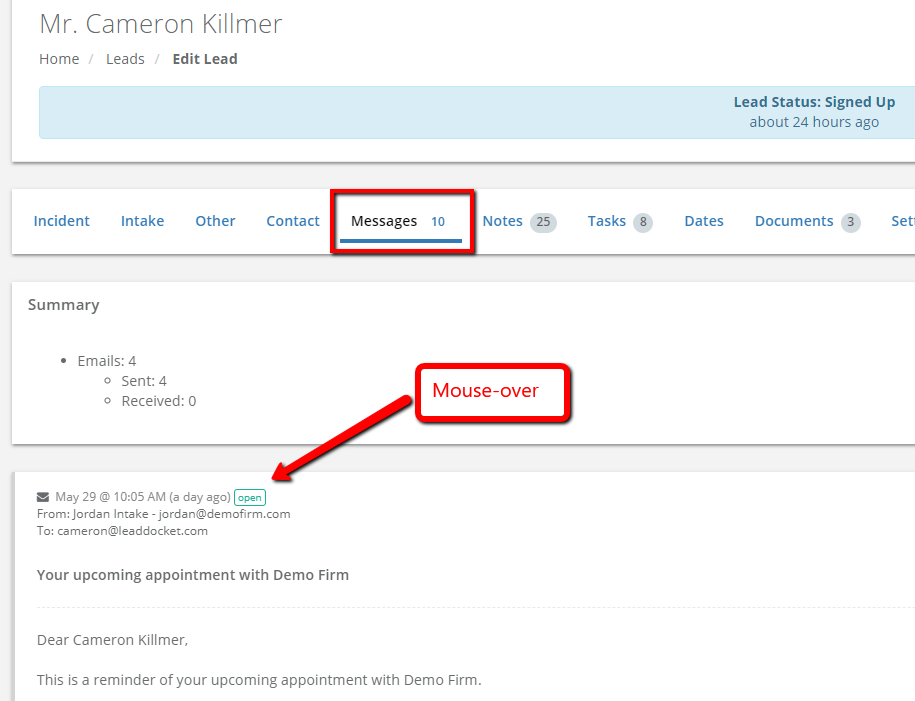 ---
Message statuses defined:
Text Messages:
Initial Statuses

Queued - The message is queued to be sent
Accepted – The phone system has accepted your request

Processing Request Statuses

Sending – The phone system has started the process of dispatching your message to the nearest upstream carrier
Sent - The upstream carrier has accepted the message request

Message Delivery Statuses

Delivered - Confirmation of message delivery has been received from the upstream carrier
Undelivered – Lead Docket has received a delivery receipt indicating that the message was not delivered
Failed - The message could not be sent
Email Messages:
Processed - The message was received and is prepared for delivery
Dropped – The message has been dropped and no further delivery attempt will be made
Deferred - When a message cannot immediately be delivered, but it hasn't been completely rejected, the deferred event fires. Lead Docket will continue to try for 72 hours to deliver a deferred message
Bounce – The message will not deliver. Bounces often are caused by outdated or incorrectly entered email addresses
Delivered – The message has been accepted at the receiving server. This event does not guarantee that the email was placed in the recipient's inbox
Open – The message has be opened. Image viewing in the recipient's email client must be turned on for this to work properly
Click - The recipient clicked a link in your message
Spam Report – The recipient reported the message as spam
---
At any time, you may click the status of the message to see the complete history of statuses for a given message.