This article discusses what tasks are in Lead Docket, when they are generated, and how to view and complete tasks.
The Basics
In Lead Docket, a task is an item that tells a user to perform an action for a given lead. Each task has an assignee, but any user can complete any unresolved task. Completing tasks in a timely manner will help leads move through the system smoothly.
Task Generation
Tasks can be automatically generated in a variety of ways. For example, changing a lead's status or adding a note to a lead can trigger certain tasks. Admins can customize these automated tasks using task templates.
All users can also manually add tasks to leads. Learn how to create and assign custom tasks.
View Unresolved Tasks
In the left-hand menu, select Tasks. This page displays your unresolved tasks.

Each task displays the following information:
the name of the client associated with that task

a summary of the task

the task's assignee

the task's category (ex. Mailing, Action / Administrative, etc.)
If a task has high priority, a red exclamation mark icon will appear in the rightmost column.
To view another user's unresolved tasks, click the box to the right of Assigned To:. The dropdown will show all users with unresolved tasks, as well as the number of unresolved tasks assigned to each user. Select the desired user, or select All Unresolved Tasks to view every user's unresolved tasks.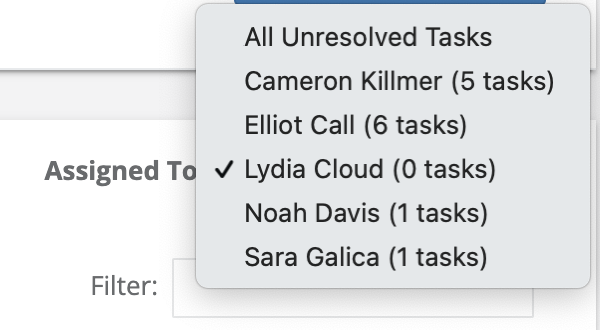 To download a spreadsheet of the chosen tasks, click Excel in the top left corner.
More Ways to View Tasks
You can preview your unresolved tasks by clicking the list icon in the top menu bar. Click View All Tasks to open a list of all unresolved tasks.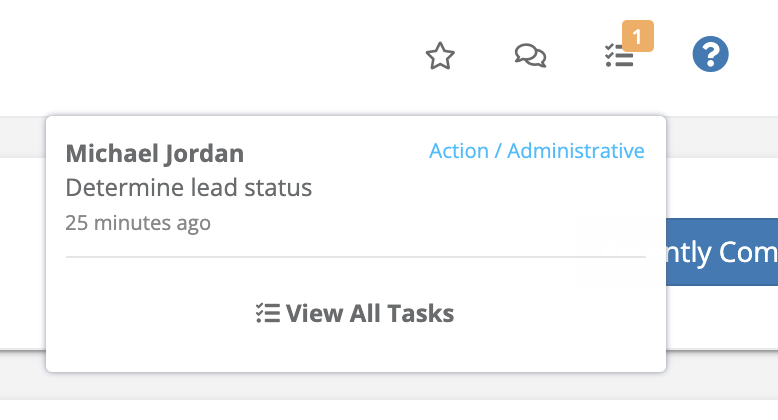 You can also view your tasks in the My Tasks section of the Intake Dashboard.
Complete Tasks
In the Tasks list, select the task you wish to complete. This action will open a window containing the information needed to complete the task. For example, clicking a task that requires you to approve an email for delivery will open the email, where you can approve and send the message.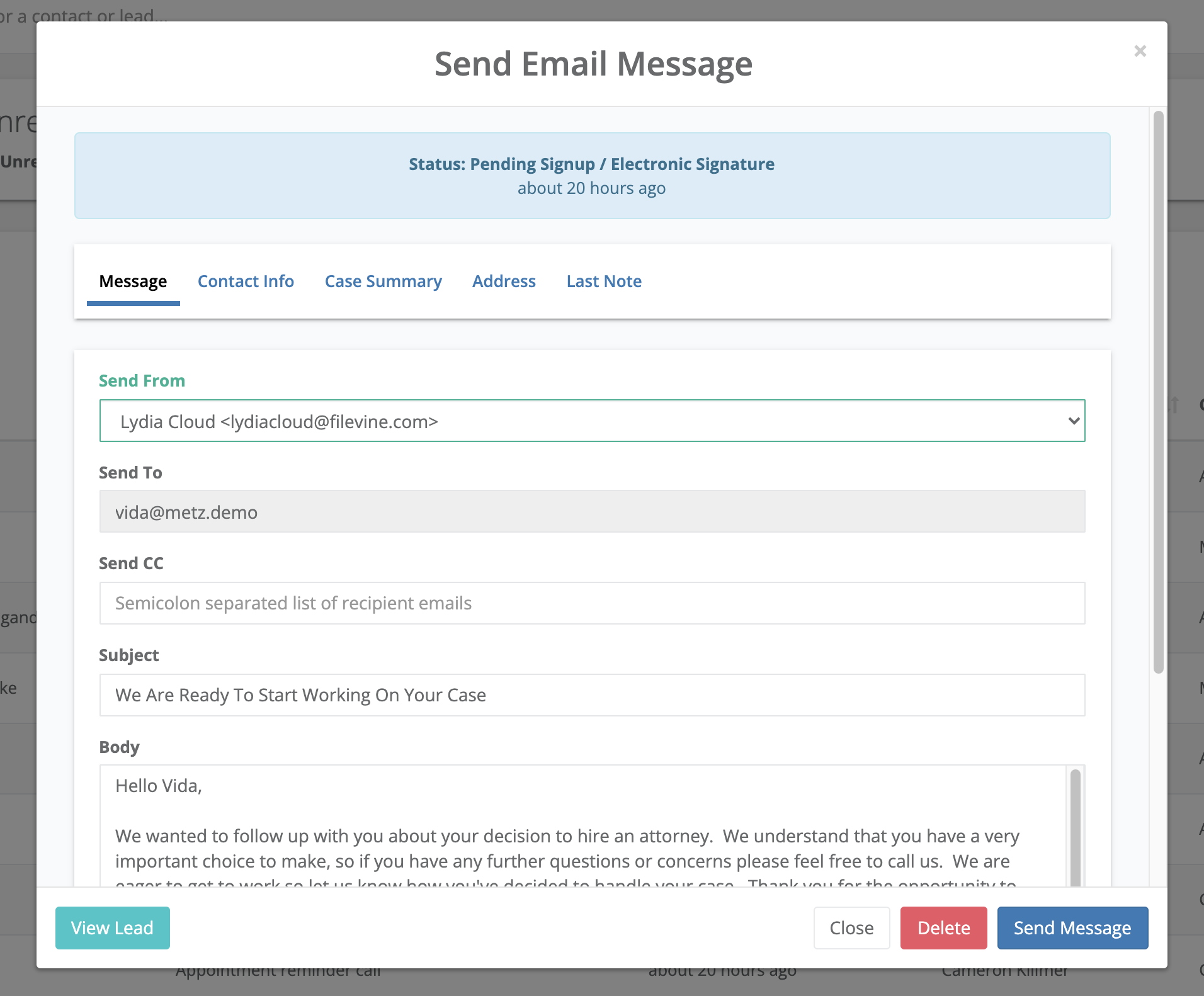 You can also click View Lead to open the lead's details, or click Edit Task to edit or delete the task.
Once you complete the necessary action and save the changes, the task will be automatically marked as complete and will disappear from the All Unresolved Tasks screen.
View Recently Completed Tasks
On the Tasks page, select Recently Completed in the top right corner. Recently completed tasks for the whole organization will appear in a list. Click the column titles to sort the list as desired.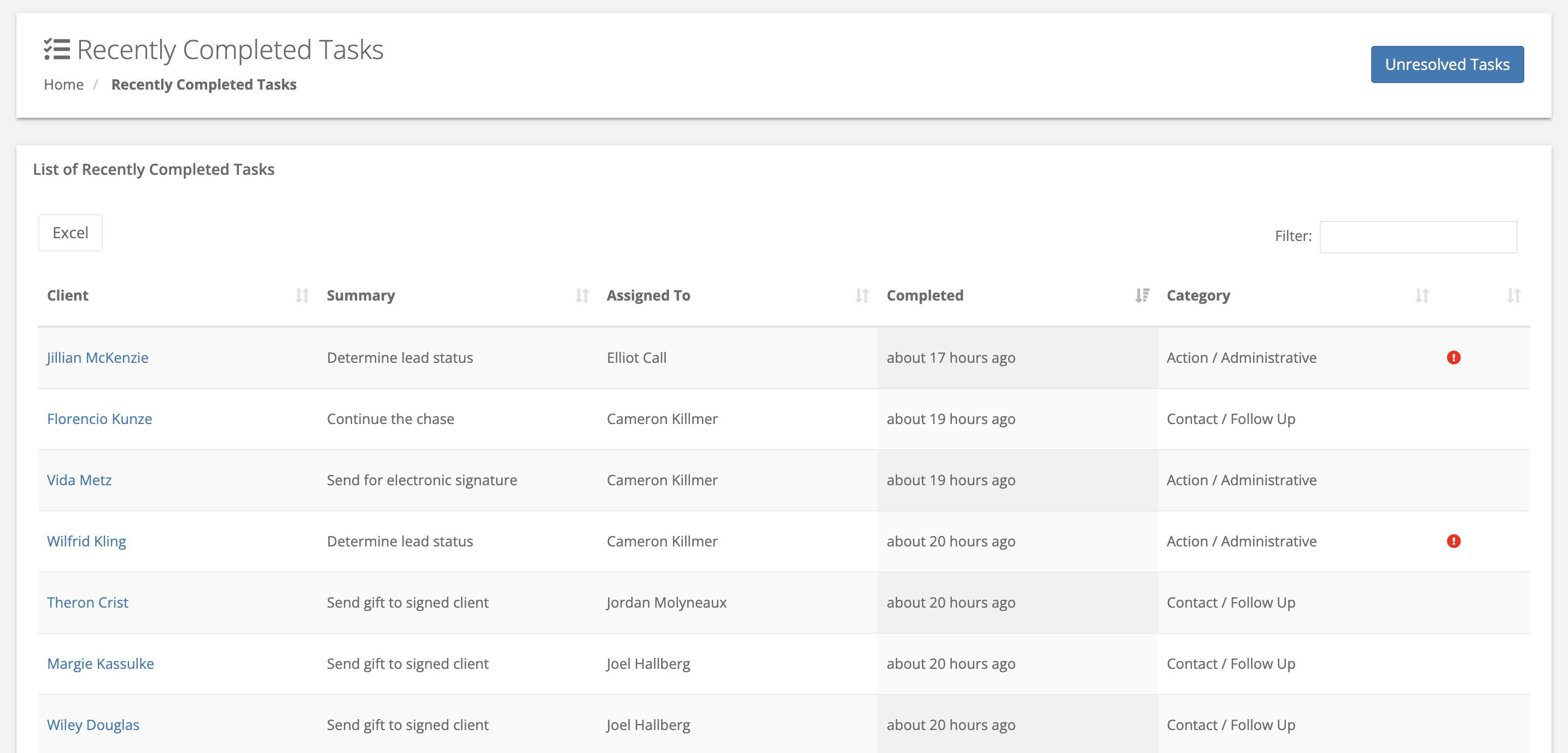 You can return to the All Unresolved Tasks page by clicking Unresolved Tasks in the top right corner.