This guide will explain the Leads tab in the left navigation menu. This tab is the best way to see and sort leads by Lead Status and other criteria. You may also edit leads and change their status from here.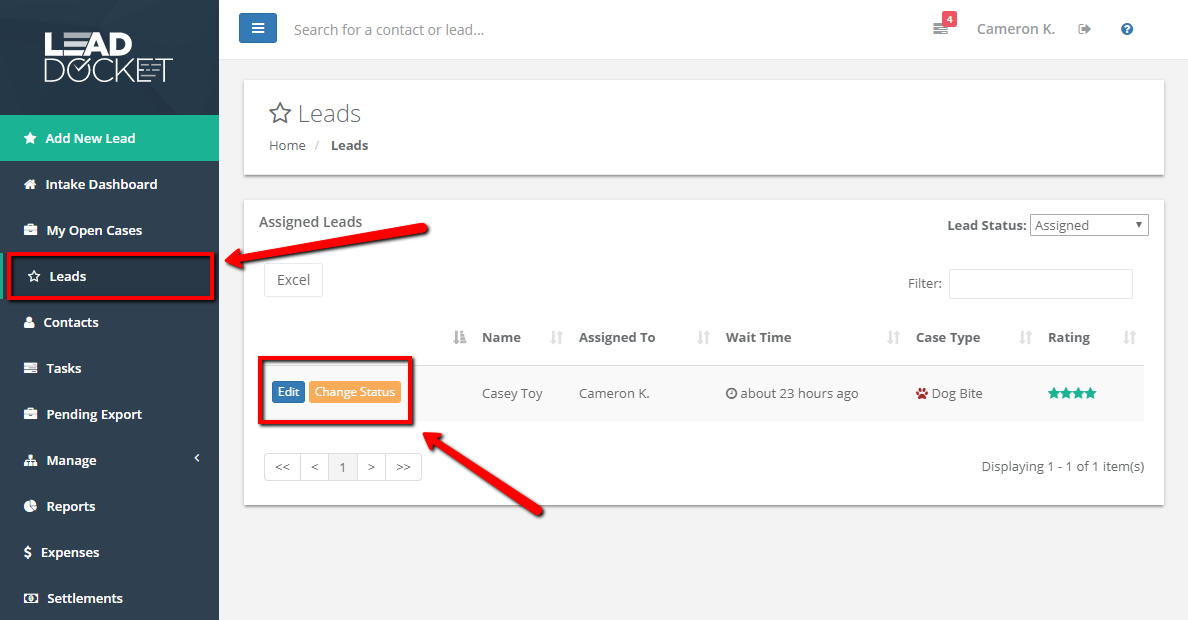 At any time, the list of leads may be exported in an Excel spread sheet by clicking the Excel button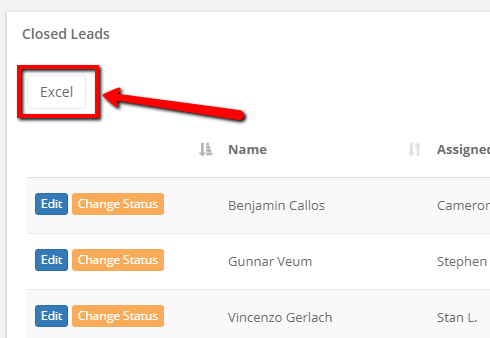 You may also search for a specific lead in the list by typing in the Filter input.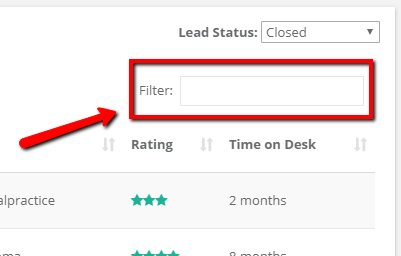 A way to sort leads is by Lead Status. You may do this by selecting a status from the drop-down menu in the top right. All leads with that status will be displayed and can be sorted by even more specific criteria.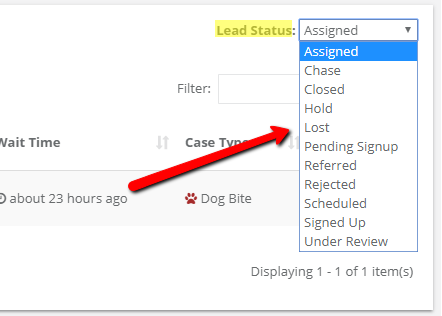 The different statuses and criteria you can sort by:
Assigned - Clicking the column headings below will sort leads by the desired criteria

Name (Lead name)
Assigned To (The intake person the lead is assigned to)
Wait Time (The amount of time the lead has been in the Assigned status)
Case Type (The Case Type or Practice Area for this lead)
Rating (The case severity level)
Chase - Clicking the column headings below will sort leads by the desired criteria

Name (Lead name)
Assigned To (Intake person the lead is assigned to)
Chase Status (Chase sub-status / chase attempt)
Case Type (Case Type or Practice Area for this lead)
Rating (Case severity level)
Closed - Clicking the column headings below will sort leads by the desired criteria

Name (Lead name)
Assigned To (Intake person the lead is assigned to)
Closed Date (Date the case was closed)
Case Type (Case Type or Practice Area for this lead)
Rating (Case severity level)
Time on Desk (Time between opening and closing the case)
Hold - Clicking the column headings below will sort leads by the desired criteria

Name (Lead name)
Assigned To (Intake person the lead is assigned to)
Hold Time (Amount of time lead has been on hold)
Case Type (Case Type or Practice Area for this lead)
Rating (Case severity level)
Lost - Clicking the column headings below will sort leads by the desired criteria

Name (Lead name)
Assigned To (Intake person the lead is assigned to)
Lost Reason (Reason lead was lost / lost sub-status)
Lost Date (Date the lead status was changed to lost)
Case Type (Case Type or Practice Area for this lead)
Rating (Case severity level)
Pending Signup - Clicking the column headings below will sort leads by the desired criteria

Name (Lead name)
Assigned To (Intake person the lead is assigned to)
Pending Date (Date the lead was given the Pending Signup status)
Case Type (Case Type or Practice Area for this lead)
Rating (Case severity level)
Referred

You are able to see leads with different referred sub-statuses such as:


No Follow-Up
Declined
Pending Review
Reviewing
Signed Up
Settled / Closed

Clicking the column headings below will sort leads by the desired criteria

Name (Lead name)
Assigned To (Intake person the lead is assigned to)
Referred To (Referral firm the lead is referred to)
Referred Date (Date the lead was given the Referred status)
Case Type (Case Type or Practice Area for this lead)
Rating (Case severity level)
Rejected - Clicking the column headings below will sort leads by the desired criteria. (Note: Leads and Contacts may be deleted here if they have the Rejected status)


Name (Lead name)
Assigned To (Intake person the lead is assigned to)
Rejected Date (Date the lead was given the Rejected status)
Case Type (Case Type or Practice Area for this lead)
Rating (Case severity level)
Scheduled - Clicking the column headings below will sort leads by the desired criteria

Name (Lead name)
Assigned To (Intake person the lead is assigned to)
Scheduled Date (Date the lead was given the Scheduled status)
Case Type (Case Type or Practice Area for this lead)
Rating (Case severity level)
Signed Up

Name (Lead name)
Assigned To (Intake person the lead is assigned to)
Signed Date (Date the lead was given the Signed Up status)
Case Type (Case Type or Practice Area for this lead)
Rating (Case severity level)
Under Review

Name (Lead name)
Assigned To (The intake person the lead is assigned to)
Wait Time (The amount of time the lead has been in the Under Review status)
Case Type (The Case Type or Practice Area for this lead)
Rating (The case severity level)