It's been a busy month for Lead Docket! In our August release notes, you'll find new ways to conduct intake, improved Filevine integration features, and more. A few of these updates were featured at Filevine's WNWN event. Watch the recording of WNWN.
Automations
With automations, firms can automate key actions and processes in Lead Docket, creating a more seamless intake experience. Available automations include updating lead statuses, sending lead forms, sending Vinesign templates, and pushing case details to Filevine.
Lead Forms
Users can now send fillable forms to leads directly from Lead Docket, allowing leads to provide information on their time. When a lead submits a form, the information provided automatically populates within the lead. Admins and users with lead forms permissions can customize forms for each case type.
Referral Groups
Firms can now group together and prioritize referral firms to better organize the referral process. Referral groups can also work with automations to automatically re-refer leads to the next firm in a referral group after a given period of time has passed, or after the previous firm rejects the lead.
Learn more about referral groups.
Role Mapping
Lead Docket roles can now be mapped to Filevine roles and permissions, letting you automatically assign the right users and permissions to cases pushed to Filevine. When a lead is sent to Filevine, any users associated with the lead with a mapped Lead Docket role will appear in Filevine with the chosen Filevine roles, permissions, and project notification settings.
Learn more about role mapping.
Collections Section Settlement Mapping
Settlement data from Filevine collection sections can now be pushed to Lead Docket, giving your organization a more comprehensive financial picture of your firm's performance.
Learn more about sending settlement data from Filevine to Lead Docket.
Conflict Check
When adding a lead, users can click Search Filevine Contacts to locate an individual in Filevine's system. The results now show each contact's date of birth and contact types, allowing users to quickly determine whether your organization has had previous interactions with the lead before signing a new case.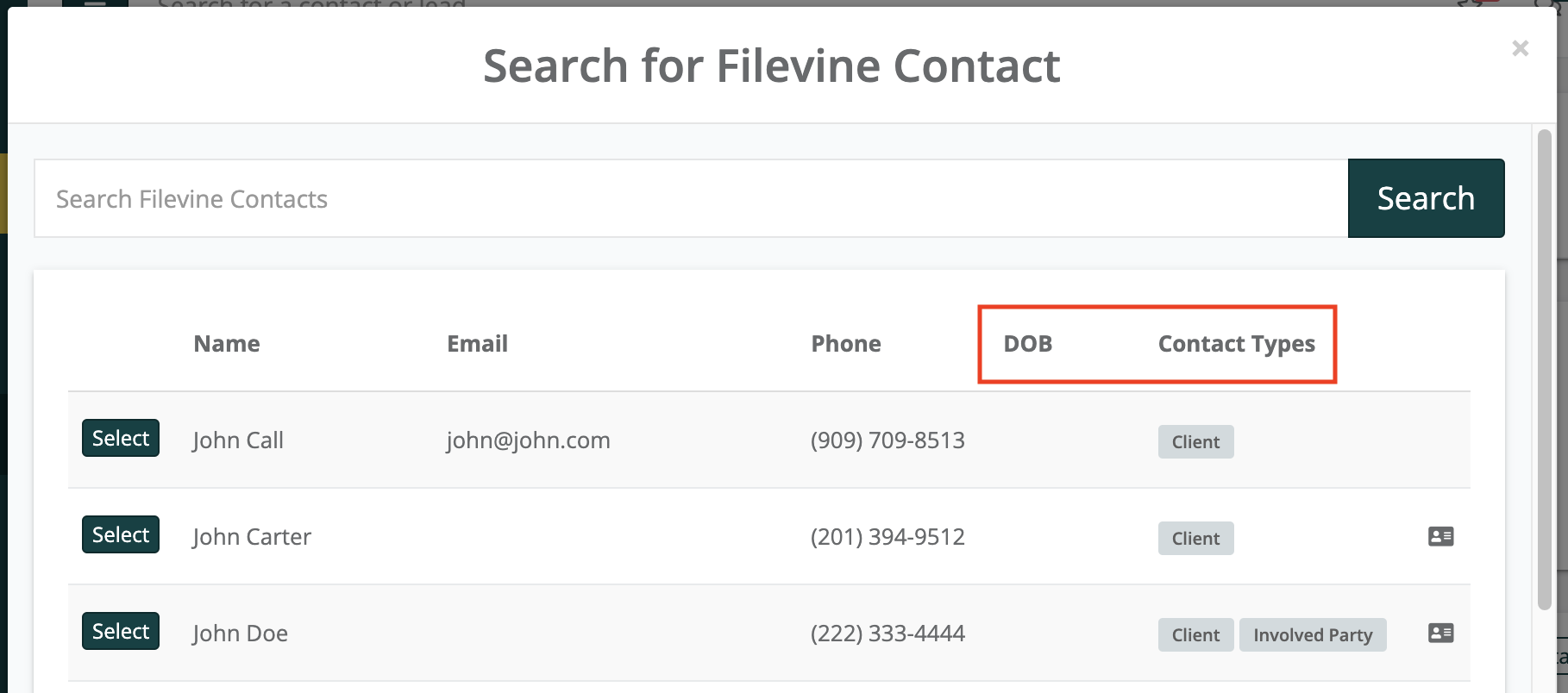 Date of Death
Users can now specify a deceased individual's date of death in Lead Docket. When a lead is pushed to Filevine, the date of death will also appear in Filevine, allowing you to more easily identify when an individual involved in a case is deceased.