When a lead calls one of your Call Tracking Numbers (From CallRail, for example), the call recordings are often automatically associated with that lead when the lead is created. However, there are some instances when Lead Docket does not associate the call recording with the newly created lead.
Lead Docket makes the match based on the Caller ID. If the phone number of the Caller ID is entered into the Lead's contact details (any phone number field), the match will be made and the call recording will be associated automatically.
However, there are some situations where an individual may be calling from their Work Phone but they provide their Mobile Phone number for contact. Thus, the call recording will not be associated automatically. If you would like the call recording to be associated with the lead, you will need to match the recording to the lead manually.
Here is how you can match it manually:
---
Step 1 - In the left navigation menu, select to Reports.

---
Step 2 - Scroll down and click the Phone Calls report under Opportunities.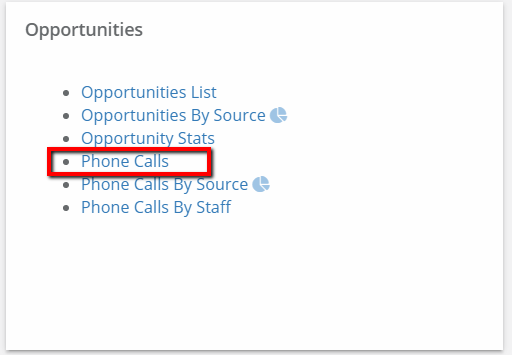 ---
The Phone Calls report will show you all recordings of phone calls that are one minute or longer.
The red circle next to the recording means it has not yet been reviewed. The green circle with a check mark shows it has been reviewed.
It is strongly suggested that you should listen to call recordings weekly to determine if these calls are related to a new lead that has already been entered into your Lead Docket.
---
Step 3 - In the far left column, there will be one of two buttons: a blue View Lead button or a grey Unassociated button. View Lead means it is already associated with a lead in your system. Unassociated is not associated with a lead and should be listened to and reviewed.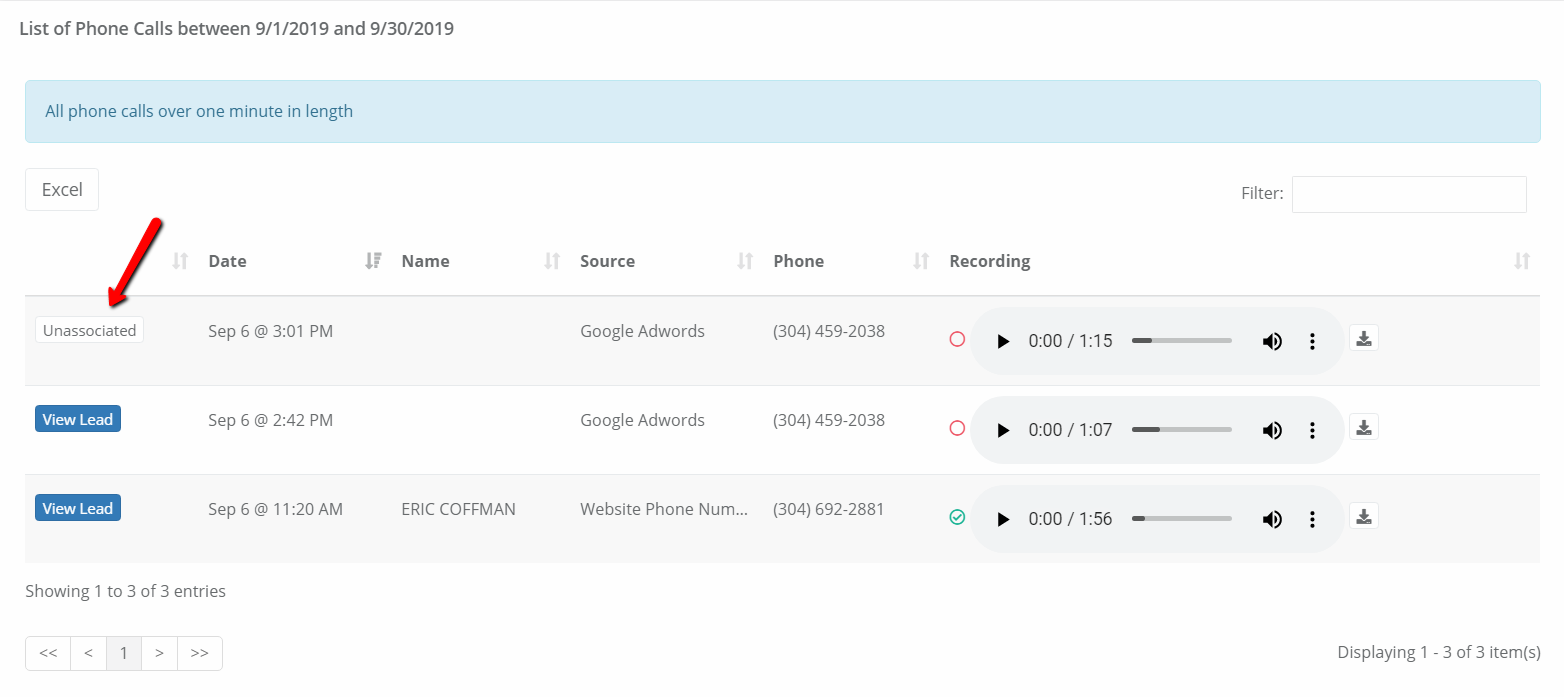 ---
Step 4 - Once you click the "Unassociated" button, it will take you to the Add Lead page. At the top of the page, there will be a down arrow. Click the down arrow and then click "Associate Opportunity with Existing Lead" to associate the recording with a lead.

---
Step 5 - Choose the lead that is associated with the call recording.

---
After choosing the lead, you will be redirected to the intake dashboard. From here, go to the lead with which you associated the phone call recording. Go to their Intake tab. You will now see the phone call recording in their intake information.
You will also see that the Opportunity Source is now auto-completed.