The Home Screen is a great place to start before navigating throughout Lead Docket.
Note: The buttons you see on this screen vary based on your permissions and role. "Admin" roles are able to see everything (pictured below).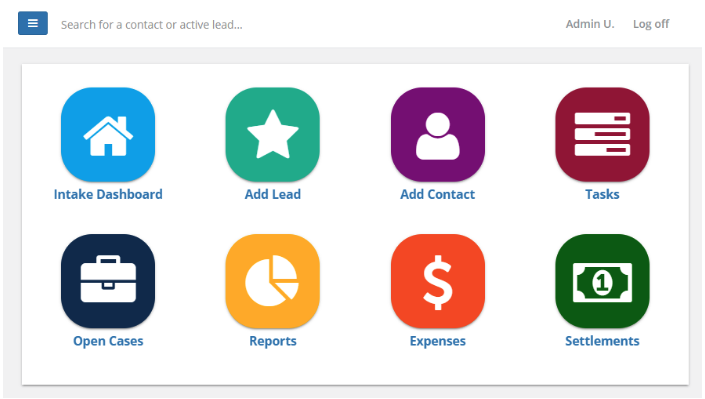 ---
The Buttons:
Intake Dashboard - Takes you to the Intake Dashboard interface
Add Lead - Opens the form to add a New Lead
Add Contact - Opens the form to add a new Contact
Tasks - Where you can see all Tasks assigned to you and other people in your firm
Open Cases - A list of all Open Cases in your firm (can access closed cases here too)
Reports - Various Reports on your firm's operations and work flow
Expenses - A list of all Expenses your firm has gathered and where to add new expenses
Settlements - A list of all Settlements on your firm's cases.
---
At the bottom of the home screen, you will see all upcoming Scheduled Appointments.
This is a quick and easy way for you to see the details of an appointment (Date, time, location, employee hosting the appointment, the name of the client, the practice area, and the severity level)