Step 1 - Click Import under the Manage section in the left navigation menu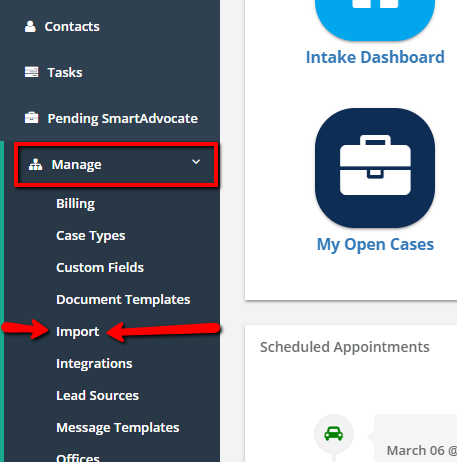 ---
Step 2 - Click the Download Template button under the Leads Import section

---
Step 3 - Open the Excel File that has been downloaded and fill out the information associated with the Leads
Note: Do not change the existing column headings or cell formats in the Excel Template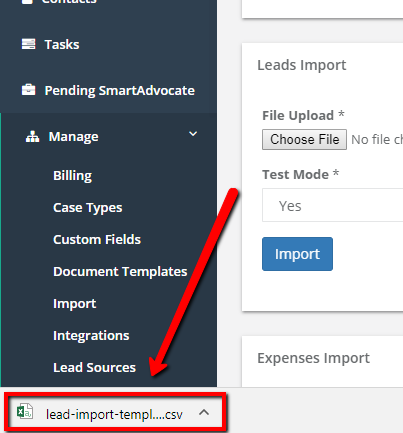 Click the View Map button to see what criteria needs to be entered under each column in the Excel template.
Here's a list of fields that are required for importing leads:
First Name
Last Name
Case Type - Case Types must match exactly as they are in Lead Docket.
Summary - We recommend to put "IMPORTED" for the Summary of these leads if you don't have one to provide
Lead Status (Needs to be one of the 11 Lead Statuses. This will most likely be Rejected, Referred, Lost, or Signed Up since these are older leads.
S

tatus Date

- The date the lead was placed in the current status.
Assigned To Intake - Must be someone with the Intake Role in Lead Docket
Severity Level - Use "3" for all leads if you do not know this for each individual lead
Created Date - The date the lead was created. Use today's date or the status date if you do not know.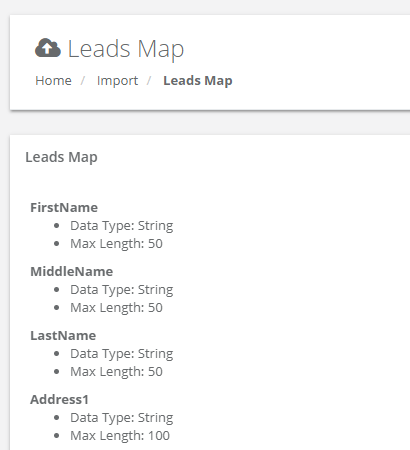 Each column heading will be bolded and the criteria information will be listed below.
Data Type

:

String: Words, phrases, or numbers
Comma Separated List of String: Words, phrases, or numbers separated by commas if there are multiple inputs
Boolean: True or False
DateTime: Date and Time
Int32: A number from a set of numbers (Ex: 1-5)
Decimal: A decimal number (for currency)

Max Length

: The maximum number of characters the input may be

Possible Values

: List of possible inputs for the column

Alternate Possible Values

: Alternate list of possible inputs for the column
---
Step 4 - Save the Excel template and upload it into the Leads Import by clicking the Choose File button and selecting the Excel template file.

---
Step 5 - Select Yes/No under Test Mode
NOTE: Run the import in Test Mode repeatedly until there are no errors
Yes: Won't actually import the Lead data; tests the data to make sure there are no errors
No: Imports the Lead data into your Lead Docket system.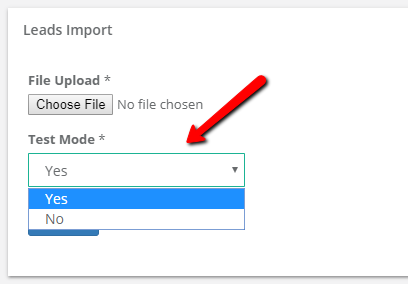 ---
Step 6 - Click the Import button to either run the test or import the lead(s).